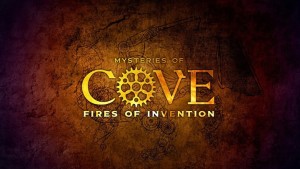 Welcome! I'm J Scott Savage, the author of sixteen novels including the Farworld series from Shadow Mountain, the Case File 13 series from Harper Collins, and the new Mysteries of Cove series.
Lots of exciting news happening! Thursday, October 1st is the launch party for Mysteries of Cove. It's going to be amazing! Here are the details.
Grab your top hat and goggles because it's party time- Steampunk Style!
You're invited to the steam-powered launch party for book one of J. Scott Savage's new series, Mysteries of Cove.
With Author James Dashner as the MC and New York Times Best-Selling Authors, Brandon Mull and Jennifer A. Nielsen in attendance, this is going to be a party to remember.
There will be airbrush face painting, games, delicious Dole Whip, and a steampunk-themed stage show featuring some of your favorite authors and book characters. Not to mention, everyone gets the chance to win a special, limited edition Mysteries of Cove poster!
Thursday, October 1st
Mountain View High School
665 W Center St. Orem, UT 84057
7:00 PM (doors open at 6:30 PM)
Admission is free, but space is limited so get there early! Doors open at 6:30 PM.
Make sure your pocket watch is working because this is one party you do not want to miss!
Authors participating in the stage show:
Peggy Eddleman
Frank L. Cole
Jennifer Jenkins
Chad Morris
Shelly Brown
Sara B. Larson
Annette Lyon
Heather Moore
Sarah Eden
Michele Paige Holmes
Here's the Facebook link:
Speaking of news, here's the trailer for the new series. What do you think?