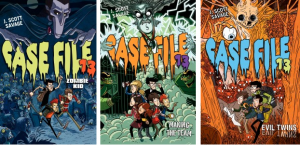 Reviews
Kirkus Starred Review
Striking the perfect balance between rib-tickling humor and bone-chilling adventure, the first novel in Savage's new middle-grade series is sure to please young readers looking for a thrill.
Nick, Carter and Angelo, otherwise known by their fellow sixth-graders as the "Three Monsterteers," are obsessed with the supernatural and all things Halloween. Nick is crushed when he learns that he will miss trick-or-treating with his buddies because he has to travel to New Orleans for his great-aunt's funeral. But when it turns out that she was a voodoo queen, the trip to Louisiana quite literally changes Nick's life. Back home in California, Carter and Angelo notice there's something different about their friend, and all the signs lead them to one conclusion: Nick's been turned into a zombie. It's pretty cool to have a zombie as a best friend, but when Nick starts losing body parts and develops a hankering for brains, the three boys set out on a desperate mission to change Nick back before it's too late. With clever commentary from a mysterious narrator at the start of each chapter, a trio of funny and enormously likable boy protagonists and plenty of creepy encounters to up the ante, Savage hits all the right notes.
It's hard to imagine that readers (particularly boys) won't enjoy every minute of hair-raising fun.(Funny horror. 9-14)
School Library Journal
Gr 4-7-Nick Carter's obsession with monsters proves advantageous after a chilling trip to Baton Rouge. When he returns from his aunt's funeral, he and best buddies Carter and Angelo realize that his new amulet has altered him. Initially, the power to hold his breath indefinitely and feel no pain seems awesome. However, the craving for human brains paired with losing a finger causes the boys to grasp that Nick is a zombie. They must find a way to break the zombie curse, which includes befriending a talking cat, listening to a deceased soul, and outsmarting the Zombie King. Savage's action-driven plot and short chapters are sure to keep readers intrigued. The authentic tween language is humorous and includes clues, allowing readers to make inferences, continually guessing what might happen next. Many readers will welcome the interesting folklore surrounding zombies and voodoo, echoing pop-culture appeal. Savage's character development is strong and the story, a blend of mystery, realistic fiction, action, and humor, will appeal to a wide variety of readers. They will love entering Nick's world.-Mary-Brook J. Townsend, The McGillis School, Salt Lake City, UTα(c) Copyright 2011. Library Journals LLC, a wholly owned subsidiary of Media Source, Inc. No redistribution permitted.
From Booklist
This series starter from the author of the Farworld fantasies should appeal to monster fans with strong stomachs. Sixth-grader Nick and his two best friends are preparing for Halloween, their favorite night of the year, only to find out that Nick has to miss trick-or-treating in order to attend his mysterious great-aunt's funeral in Louisiana. While exploring the bayou at night, he blacks out and somehow gets turned into a zombie—in this telling, a gradual process. As Nick undergoes strange changes (he craves raw meat, for example, and his skin gets cold) and starts smelling bad, his clueless parents advise him to take showers. It is his friends who diagnose ("Awesome!" they all yell at once) and eventually cure him. Savage keeps up a lively and light tone as the boys deal, surprisingly calmly, with additional challenges, including a large bully, nosy girls, and an evil zombie king. They stick together through thick and thin and the truly gross, as when Nick's pinkie falls off into the mashed potatoes. Doesn't that say it all? Grades 4-7. –Nolan, Abby