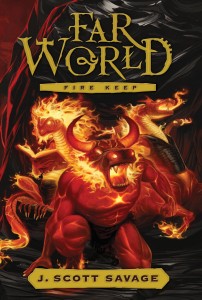 [UPDATE: FIRE KEEP IS OFFICIALLY ON SALE. YOU CAN ORDER IT ONLINE IN E-BOOK, HARDBACK, AND PAPERBACK. YOU CAN ALSO SPECIAL REQUEST IT FROM YOUR LOCAL BOOKSTORE OF LIBRARY IF THEY DON'T CARRY IT. YAY!] 
I know you are all anxious to read Fire Keep, the last book in the Farworld series. And I can't tell you how anxious I am to have you read it. It's been over five years since Water Keep introduced Marcus, Kyja, Riph Raph, and all the other fun characters of this series. Since that time, I've visited over a thousand schools signed thousands and thousands and thousands of books, posters, and bookmarks. I've met so many amazing readers, and enjoyed every minute of the ride.
As you know, the trip has been a little bumpy at times. That's one of the things about writing a series—you have no idea what will happen between the first and the last book. Sometimes life takes weird twists and turns. That was definitely the case here, as the series launched during a very tough time in the publishing market.
The good news is that Fire Keep is done, it has an amazing cover, and I'm so excited to share it with you. The bad news is that due strictly to business reasons, it won't be published by Shadow Mountain. Their support has been incredible, and this series would not have happened without amazing people like Chris Schoebinger and Lisa Mangum. But financially, sometimes a series just doesn't take off the way you'd like it to. That's why you don't see it listed online anymore, and if you preordered it, you received a notice that it wasn't available.
But the really good news is that I am publishing the book myself. Shadow Mountain gave me the great cover, and Lisa Mangum graciously offered to read it and give me feedback. I hired the amazing Annette Lyon to do the line edits (she edited books 2 and 3,) and I've hired some awesome people to typeset, do the cover, and get the book out in both physical and e-book format.
My day job gets really busy this time of year, but I am about ready to turn the final copy over to these great people. As soon as it is available on-line, I will let you know. Thanks for all of your support and for enjoying this series with me.
If you have any questions of comments, please feel free to ask me anything here or on Facebook.